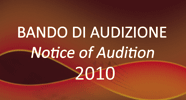 Orchestra
The International Philharmonic Orchestra "Alpe Adria" from Gorizia consists of young musicians of the age between 18 and 25 of various nationalities, mostly from the Alpe Adria region (Austria, Croatia, Italy, Slovenia) and since 2003 also of Hungary, Serbia Montenegro, Moldavia and Albania, which have been selected after various orchestral training workshops. In the Orchestra do coexist various schools of thoughts and music traditions, the universal language of music, which our young musicians do speak, becomes a privileged vehicle for knowledge, union and friendship between people.
Formed in the first place in 1986 after experimental orchestra experiences, in which participated young musicians of various nationalities, the Orchestra was officially established in 2000 thanks to M° Luigi Pistore. In 2001, after completing the organization project, the M° Pistore projected and completed, with the valuable help of the Austrian violinist H. Fister, the first orchestral training workshop. To this workshop participated musicians from all around Europe and young soloists, who won prestigious international competitions.
At the end of the workshop there was a tour of concerts in Italy and abroad, which had a great success. The public an the critics were enthusiast and this led the Orchestra to two memorable concerts in the prestigious Teatro Nuovo "Giovanni da Udine" of Udine and Teatro Municipale of Piacenza. The second edition of the orchestral training workshop, realized in 2002 confirmed and amplified the former success.
Between October and December 2003 were realized over 10 concerts in Italy, Austria and Slovenia and for the first time the Orchestra performed in the "G.Verdi" theatre of Gorizia where the public rushed numerous, so that it was completely sold out. In 2004 there was the third workshop of orchestral training with the collaboration of the Korean violinist M° Saewon Suh. Since 2005 the Philharmonic Orchestra "Alpe Adria" collaborates with the Music Academy Ars Nova from Trieste. The orchestral training workshop of 2006 will be displayed in two places - Gorizia and Vienna - with the precious collaboration of prestigious institutions from Vienna.
After the stages of 2008 and 2009 arrived the discographic success and the recognition of the excellence of the Orchestra thanks to the fulfilment of 4 live CDs produced by the recording company "Velut Luna" with the programme registered during the stage. Moreover, was undertaken together with the orchestral also the chamber activity, which schedule the formation of a high-level chamber orchestra and the formation of chamber groups with the best musicians of the youth orchestra.
Partecipants of the 2007-2009 edition